Suction Nozzle Gold Dredge
A suction nozzle is the traditional method for creating the venturi. The advantage of using this method is that it can be operated in water as shallow as the dredge will float in.
The down side is you need two hoses, one from the pump and the other being the main suction hose gravel goes up. Having two hoses can be cumbersome.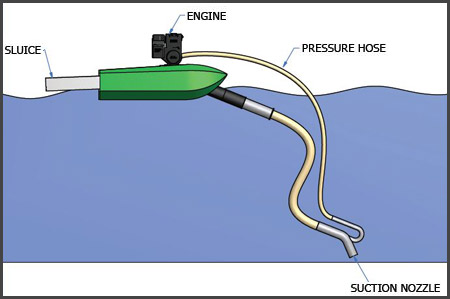 Power Jet Gold Dredge
A Power Jet is more efficient because there is a shorter pressure hose from the pump and therefore less friction losses. The Power Jet enters the suction line just before the sluice, which means the gravel is being "pulled" up the hose rather than "pushed" by a suction nozzle. This can help prevent blockages. The advantage with this is you only need one hose underwater. However this system requires you to be in water no less than approximately half a metre deep.